The manufacturing company to which a certain shape the imagination
-Electric lifting chair seat "Declaration of Independence" series-
KOMURA CORPORATION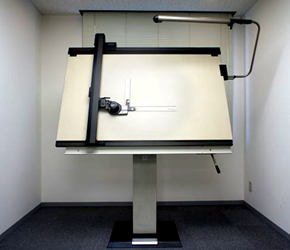 Obsessiveness of founder
- His thoughts for 260 patents and drafting table -
Do you know the drafting table? After World War II, The drafting table that necessity for designers made in Europe and U.S. with technical capabilities was overwhelmingly of mainstay.That the drafting table made in Japan, what marketing Seiichi Komura was instrumental in to Europe and U.S. , he is our founder.
He was born in 1919. He had personally run a camera shop in Matsue. During the war is useful is that technology, and that had been involved in the manufacture and maintenance of such gun sight. Then, he was forced to harsh experience by Siberian internment. Dexterity he creates one after another the necessary tools in the frigid land as "If there is nothing, I can create", that also had been found useful from the Russians. After returning home, and confident in the future as long as it is a drafting table that he saw in Manchuria, there is a demand in Japan, was working on Japanese-made drafting table creation.
He is not willing to compromise. He while repeating the trial and error, drive lifting technology and safety technology went growing a moment. In addition, he is a curious, so that was introduced one after another new technology and other industries of technology, application number of patents and utility model also became a 260. He was able to create a drafting table that surpass even the unawares Europe and U.S. products.
And drafting table that Komura is made had been exhibited at the exhibition in Europe. "We will create a drafting table by world's best quality, it we want to spread to the world" that challenge of Komura was spectacularly successful. But it was It was not never profitable. Because it's causal factor was transport costs and tariffs of it. And this is, drafting table made in Japan became the first and last case that was competitive abroad.
Age migrates from analog to digital, the role of the drafting table became gradually smaller.
However, passion is remaining for the Manufacturing of cultivated variety of techniques and founder in drafting table the Company, and has become a cornerstone of today's management.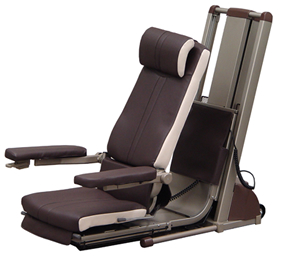 From drafting table to lifting seat chair
- Japanese domestic market share number 1 "Declaration of Independence" series -
Takashi Komura of the second generation in the current president, inherit the will of the founder Seiichi Komura. Lifting technique was used in drafting table is evolving and its appearance changed to lift chair seat, the "thing" that are needed in society.
The lifting seat chair is a chair seat made for people with disability person and a lame senior. Surprisingly step is many in the house. Caregiver burden was greater. Because caregivers and when persons with disabilities switch from external wheelchairs at the entrance to a wheelchair in the house, when you move from wheelchair to bed kotatsu if had him once.
Our electric lifting chair seat "Declaration of Independence" series is incorporating well such needs. By applying the lifting technique obtained by drafting table, in addition to those weighing 80kg has to allow smooth vertical movement also ride, front and rear slide and the left and right rotation, function becomes popular to match the position of the user was a big hit. Other companies cannot easily imitate because there is ingenuity in such safety device in our products. Therefore our electric lift chair seat was achieved Japan domestic market share No.1.
However, KOMURA CORPORATION is not stoped with it. Next put the wheels on the seat chair, we was released that can be moved in the house, "Declaration of Independence Kororo". It reduces the burden of caregivers by mounting the battery to the rear of seat, and where are you will be able to automatically lift it can have, and developed a special wheel structure 6 wheels, it is possible to facilitate beyond step in the house. "Kokoro" was hit Following the previous work.
In this way, "Declaration of Independence Series" has evolved from the idea that thought the user's convenience. It currently has deployed a variety of lineup. So our products' s share number 1 in Japan.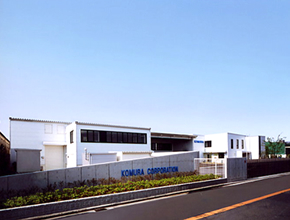 It's "Komuraman" rather than the employee!
- Future aim of developing company -
Komura president not say never the word "employee". He said "I have called 'Komuraman' for employees and part-timers.".
Management philosophy is following.
< "Komuraman" is proud of being earnest >
< "Komuraman" study-effort in order to make a good product >
< "Komuraman" create a product that is for the people and society >
"Komuraman" were valued as a family, everyone is aiming in the same direction together. He also at the time of headquarters rebuilding, now leaving a rare canteen in, it was to take care of that "eat from the same bowl" from the time of its founding. What is the thing that "Komuraman" is aiming for?
It is that making things make the imagination to shape. Our technology in addition to nursing care and welfare was also active in the already wide range of fields. We except in the medical field you are developing the equipment of No.1 market share in Japan in electric optical bench, industrial equipment, such as also housing equipment has been manufacturing a large number of equipment that applies our lifting technology, active field is infinite. "If there is nothing, I can create". A spirit from its founding and that provide what useful to society, are now also inherited.
Komura president said "our company, still developing company". KOMURA CORPORATION's aim future is still in the way ahead.
KOMURA CORPORATION

○Address

: 3-9, Nishiyuge, Yao City, Osaka, 581-0035, Japan

○TEL

: +81-(0)72-949-0011

○FAX

: +81-(0)72-949-0009

○Homepage

: http://www.komura.co.jp