Home

Business PR Page

We have the know-how who knows the wastewater of cardboard factory. As a result, we've been to clean a large number of industrial wastewater.
Industry deliveries of our "GOEMON" (primary treatment) and the "Rotation JIRAIYA "(secondary treatment) is the top market share!
Inquiries to this Company
Japanese
Other Manufacturing


Dink Co.,Ltd.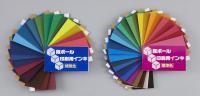 We will create a cardboard print water-based ink in any color! Please feel free to inquire us.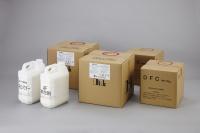 We offer a large number of chemical wastewater treatment, such as the original drug.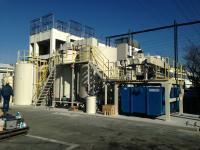 This is the primary treatment facility "GOEMON". And it divided the drainage to water and dirt.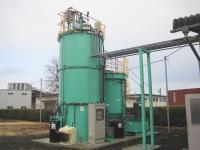 This is a secondary treatment facility "Rotation JIRAIYA". And it will be to clean the water with the help of bacteria.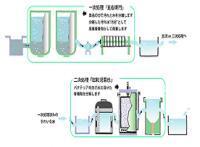 Flow diagram of a waste water treatment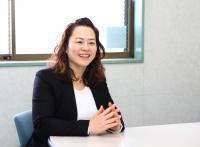 Kaoru Isobe president's grew up Yao.

[Wastewater treatment facility]
Our waste water treatment facilities are specializing in wastewater of cardboard factory. It can mix the waste also processing of ink-paste.
We and the scale of each plant, according to the contents of the print, and then design and propose the best wastewater treatment equipment.
For operating the waste water treatment facility efficiently, it supports the waste water treatment system improvement of cardboard factory, such as Equipment content, Raw materials for the production and Processing chemicals.
The features of our waste water treatment facilities are as follows.
< Characteristics of the primary treatment "GOEMON" >
· Energy-saving design: It is the energy-saving design to operate only where needed in a batch
· lack of waste: it is the water content of 65% in the squeeze-type filter press! It can reduce the amount of waste
· Long life design: It is made of FRP, which is difficult to corrosion
< Secondary treatment features of the "JIRAIYA" >
· Ministry of Space: It is easy to ensure the installation location in a small footprint outdoor specification.
· Effort is not applied: The microorganisms are naturally occurring, there is no need of return sludge
· Automatic Maintenance: It is less time and effort because it is equipped with a pH adjusting device and automatic cleaning function
[Corrugated board printing-related materials]
· Cardboard water-based ink
※ We are prepared in the build-to-order manufacturing a color to suit your requirements.
· Detergent (printing machine, printing plate washer, for anilox, others)
· Other cardboard printing-related materials
We are consumables such as ink and detergents, we have produced in our factory. Therefore, we can respond flexibly to customer requirements.
We will support all of the cardboard factory together with the waste water treatment facility.
[Waste water treatment Related Products]
· Our original inorganic coagulant "MCL", polymer flocculant DFC, various neutralizing agents, anti-foaming agents (liquid or solid), the others, various types of waste water treatment chemicals
· filter cloth for filter press
· Pump parts such as waste water treatment facilities around fixtures in general handling of the various types of measurement equipment
We parts(Such as a filter cloth of pump parts and filter press) and equipment maintenance, overhaul, exchange work and the like related to the waste water treatment facilities, and also proposals for minor maintenance needed at the factory, which has installed a waste water treatment facility.

[Wastewater treatment facility]
We are proposing the always clear to equipment the legal reference value. And the guaranteed value of the waste water treatment facility that we have delivered many is BOD20 below. Currently, customers of the reference value has greatly exceeded no one company. Even if it exceeds the guaranteed value, it has been all improved to investigate our employees on site.
Currently, our waste water treatment plant has been delivered in a cardboard factory with more than 300 factories in Japan. We've engaged in specializing in the cardboard factory. Therefore, based on the accumulated knowledge, we will propose a wastewater treatment facility that can handle even no matter how strict reference value.
[Corrugated board printing-related materials]
We have been manufacturing the flexographic ink from its inception. Therefore our toning technology is high. So we can also respond flexibly to our customers fine demand.
We have been made rather than "compete on price", the manufacture and sale of ink to obtain the trust of customers in the quality and sincerity.
[Consumables such as waste water treatment chemicals]
The advantage of original drug "MCL" is likely to aggregate in the wastewater treatment of the cardboard plant, easy squeezing, less usage than other agglomeration chemicals. Lack of its usage, also leads to a lack of sludge amount, it contributed to that significantly to the reduction of waste along with the squeeze-type filter press.
We will the various proposals while also considered, such as cost and safety in accordance with the other chemicals also a variety of drainage and factory environment.

< Major customers >
Mitsubishi Heavy Industries Printing & Packaging Machinery, Ltd. , SAKATA INX CORPORATION. , UMETANI MFG Co.,Ltd. , ISOWA CORPORATION , Oji Container Co.,Ltd. , JA cardboard factory , Daio Package Corporation. , Nippon Tokan Package CO.,LTD. , Other is a cardboard factory in Japan. (In no particular order)
< Delivery Record >
We have delivered more than 300 products in a cardboard factory in Japan.

< Management Philosophy >
Dink, Inc. protects the natural richness of the earth by providing the latest technology and the best of service.
< Environmental Policy >
· We are always environment in product manufacturing and selling in consideration, always strive to develop technologies so that it can provide a better product.
· We will correspond always in good faith to your inquiry. Whereby we will act quickly such that the effect on the environment remains to a minimum
· We will endeavor to comply with legal and other requirements for the prevention of environmental pollution
· We will promote environmental conservation and environmental load reduction by carrying out thorough the 3R (Reduce, Reuse, Recycle)
· We will do the business activities in accordance with the environmental management system. Also aim to be a company that has high aspirations than always working to continuous improvement of environmental management system
· We are also actively recommendations to other companies with the aim of society as a whole of the environmental impact mitigation

[Employee]
Pollution control manager water quality one and two, hazardous materials handlers, poison person responsible, organic solvent work chief, the second kind electrical worker, and more

[Company]
Poison general sales business registered
FY2013, subsidy project implementation by small and medium-sized companies and small business manufacturing, commercial and service innovation business
Tip equipment appropriate one of the productivity improvement and equipment of industrial competitiveness Enhancement Act (possible certificate issued for the special depreciation)

Materials
Processing Technologies
Processing
Products and Uses
Flexographic base ink
Toning technology
Together toning to customer needs in addition to standard color
・Other Processing
Cardboard for printing ink
Tank, part set of pumps, etc.
Design, Piping, Wiring
・Assembly and Wiring
Wastewater treatment facility

| | | |
| --- | --- | --- |
| Commodity | Component | Industry |
| Corrugated board printing water-based ink | | ・Processed Paper Goods |
| Waste water treatment chemicals | | ・Pharmaceutical Products |
| Wastewater treatment facility | | ・Other Products |

Corrugated board printing water-based ink: 2t / day
Chemicals: 5t / day

| | | |
| --- | --- | --- |
| Machine Name | Processing Capabilities | Number of Machines |
| Automatic toning machine | 2t / day | 1 Unit |
| Large stirrer | 2t / day | 1 Unit |
| Filling machine | 5t / day | 1 Unit |
| Mobile robot | | 1 Unit |

Corrugated board printing water based ink container (design registration)

・ISO 14001 Acquisition:2011


< Wastewater treatment facility >
Delivery time is one to two months after our order.
The construction period is very short and the two to three days. Therefore, it is can be installed in accordance with the holiday period of your plant, such as a weekend.
< Corrugated board printing water-based ink >
You are able to receive in the next day after the order. However, please contact us for a special ink.
< Other >
We have a large number of stock of wastewater treatment equipment-related parts and chemicals. Therefore, we can offer in a short delivery time it to you.

■

Address
6-98, Otashimmachi, Yao City, Osaka, 581-0039, Japan 581-0039, Japan

■

TEL
+81-(0)72-948-8298

■

FAX
+81-(0)72-948-8297

■

Representatives
Kaoru Isobe

■

Date of Establishment
1993

■

Capital
40,000,000 yen

■

Number of Employees
11 people

■

Industry
Other Manufacturing

■

URL
http://www.dink.co.jp/



For more detailed information about our products or offers to act as alocal distributor,please fill out the following form.
Required item

※Unauthorized reproduction and/or reprinting of articles and photographs posted on this site is prohibited.
Usage Notes