Home

Business PR Page

We are offering the true value of pneumatic equipment.
Inquiries to this Company
Japanese
Electric Machinery and Instruments Manufacturing


NIHONSEIKI CO.,LTD.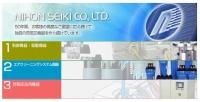 There are three categories of products we deal with, including pneumatic actuators and control equipment, compressed air dehumidifier and pneumatic appliances. Various kinds of pneumatic drive equipment / control equipment are manufactured according to the application.
Three kinds of compressed air dehumidifier are available, refrigeration type, intake type, membrane type. We utilize refrigeration technology to manufacture its applied machines and so on. For pneumatic appliances, we are producing nitrogen gas generators that produce highly pure nitrogen gas by removing oxygen molecules in compressed air, and cold air generators that apply the principles of Voltics. We manufacture various products according to customer's needs.

・ Development of pneumatic equipment
・ Refrigeration technology

Our products are sold to various industries such as machine tool trading company, catalog mail order, compressor manufacturer, shipbuilding industry, weak electric manufacturer, vacuum industry, etc. Pneumatic actuators and control devices are purchased by various users by machine tool trading companies and catalog mail order. Also, our dehumidifier has gained considerable recognition in compressor manufacturers and shipbuilding industry.

Our activities are not merely "making things" and "sales activities" of pneumatic equipment.
We will consciously and sensitively adapt to the opportunity of expanding the business area, aim to be a company that all employees and their families are proud of contributing to society, being trusted by customers with the motto:
・ Accurately grasp the changes in the environment and situation inside and outside
・ Have a creative and flexible idea regardless of success experience
・ Always know customer's circumstances
・ Strive to improve quality and study technology
・ Excellent unique product development
・ Provide thorough sincerity and service exceeding customer's expectations

We have kept making our own pneumatic equipment for over 50 years, and continue to respond to customers' advanced requests.
Regardless of old ideas, we actively promote cost reduction and quality improvement by positively engaging in technology collaboration with overseas companies.

Materials
Processing Technologies
Processing
Products and Uses
Air dryer
We have adopted our own tube-in-tube heat exchanger by providing technology with Hankson USA. Thereby realizing high efficiency and high dew point.
・Sheet Metal Processing, Canning, Bending or Cutting
Moisture removal of compressor and compressed air line
Actuator
We released the cylinder for pallet control dedicated to the conveyor which made the shock absorber in the cylinder for the first time in the industry
Automatic machine, labor-saving machine
In addition, pneumatic driven equipment used in conveying conveyors etc.
Directional control valve
Produced energy-saving small vacuum break valve for vacuum compressor using solenoid (using permanent magnet which consumes electric machine only when switching)
Automatic machine, labor-saving machine
In addition, direction control by compressed air used in conveying conveyors etc.
Auto drain trap
The reliable mechanical type automatic drain trap adopts a unique snap action mechanism with magnets to stabilize the operation
Automatic discharge of drain generated by compressed air line, compressor, air dryer
Air jet cooler
The spot type cold air generator realized high efficiency and high cooling by adopting compressed air and adopting its own spiral groove
Automatic machine, labor-saving machine
In addition, spot cooling used in conveying conveyors etc.

| | | |
| --- | --- | --- |
| Commodity | Component | Industry |
| Our products utilize compressed air and are mainly used in factory equipment. Since the product is used in all fields, it is enormous, so we can not write out only a part. | | |

Air compressor: 2000 units / month
Compressed air dehumidifier: 500 units / month
Drain trap: 10,000 units / month

| | | |
| --- | --- | --- |
| Machine Name | Processing Capabilities | Number of Machines |
| NC lathe | Okuma LB 15, L=400 mm | 2 units |
| Machining center (vertical type) | Kitamura machinery: Main shaft #10, #30, #40 | 3 units |
| General-purpose lathe | Howa: 1.8m, 430×860 | 2 units |
| General-purpose milling machine | Yamazaki: XYZ, 350×1,500 | 1 unit |
| Radial drilling machine | Yoshida: With cell | 1 unit |
| Cutting machine | Daito, others | 3 units |

Utility Model: maximum setting adjustment mechanism of pressure reducing valve
Patent: electromagnet unit and electromagnet using electromagnet unit

・・ We are not currently acquiring ISO quality / environment certification.

We will respond to customer requests such as short delivery time, small lot production etc.

■

Address
2-8, Yaogi Kita, Yao City, Osaka, 581-0016, Japan 581-0016, Japan

■

TEL
+81(0)72-923-0481

■

FAX
+81(0)72-994-3603

■

Representatives
Kenzo Hirai

■

Date of Establishment
1955

■

Capital
100,000,000 yen

■

Number of Employees
98 people

■

Industry
Electric Machinery and Instruments Manufacturing

■

URL
http://www.nihonseiki.com



For more detailed information about our products or offers to act as alocal distributor,please fill out the following form.
Required item

※Unauthorized reproduction and/or reprinting of articles and photographs posted on this site is prohibited.
Usage Notes