Home

Business PR Page

That brush is made in Japan with only the hair refinement technique which only our company has. It is a high-quality makeup brush made in Japan.
Inquiries to this Company
Japanese
Other Manufacturing


UYEDA BISYODO Co.,Ltd.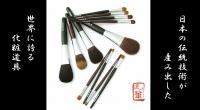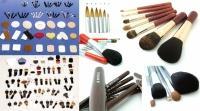 Regarding makeup brush, we are producing according to trendy cosmetics and women's needs.

Since makeup brush is a product directly contacting to the skin, processing of that hair requires special know-how. In other processes, we use a proprietary manufacturing machine to comb the hair and combine it with the average. There is also a facility developed by the our company that removes bad tip of hair.

Since we are subcontractors of cosmetic brush manufacturers, there are many orders from major cosmetic companies.

There are few companies producing cosmetic brushes in Japan, about 8 in Kumano Town in Hiroshima and 1 company in Osaka. We will hand this technology on to the next generation.

Materials
Processing Technologies
Processing
Products and Uses
Animal hair ・ Synthetic hair ・ Wood
Own refinement method and wood shaft painting.
・Surface Processing 2 (Coating, Polishing, Etc.)
・Heat Treated
・Other Processing
Paint brush ・ Cosmetic brush

| | | |
| --- | --- | --- |
| Commodity | Component | Industry |
| Brush ・ Cosmetic brush | | ・Clothing |

・ Chip brush for built-in compact / monthly production 100 thousand to 200 thousand pieces
・ Refinement processing of brush

■

Address
4-152, Otashimmachi, Yao City, Osaka, 581-0039, Japan 581-0039, Japan

■

TEL
+81(0)72-948-1034

■

FAX
+81(0)72-949-2823

■

Representatives
Yoshitaka Ueda

■

Date of Establishment
1945

■

Capital
10,000,000 yen

■

Number of Employees
20 people

■

Industry
Other Manufacturing

■

URL
http://www.cosme-bisyodo.com



For more detailed information about our products or offers to act as alocal distributor,please fill out the following form.
Required item

※Unauthorized reproduction and/or reprinting of articles and photographs posted on this site is prohibited.
Usage Notes