Home

Business PR Page

The dexterity to create anything, and the kind of originality that can only be created by us.
Inquiries to this Company
Japanese
General Machinery and Instruments Manufacturing


Sakura Seiki Co., Ltd.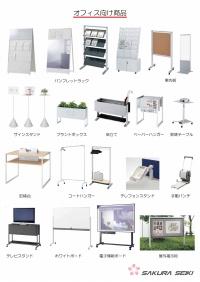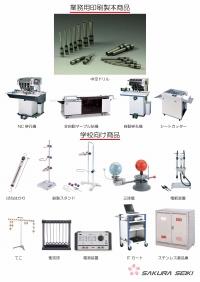 The characteristic of our company is our ability to manufacture approximately 1200 different types of items at the require time and volume.
These are not simply 1200 items of different size or of similar design; we make a wide range of totally different products ranging from scientific experimentation machines to office machinery, white boards, and bookmaking machines. Here we will introduce those products with the most advanced technical components.
*Hollow drill for making circular holes in paper stacked up to 100mm
These drills are different from ordinary spiral drills in that the shaft is in the shape of a straw. The interior is hollow, creating a structure that allows for the expulsion of paper waste that has come out of the bottom. This type of drill is used when you want to make clean holes in large volumes of paper. (Chiefly used in making loose-leaf holes as well as edge holes in pamphlets and booklets)
Other than paper, holes can also be made when working with other thin materials. Please contact us for more information.

We possess a variety of processing technologies and equipment for cutting, grinding, bending, painting, and assembling not only metal but also many other kinds of materials. We are capable of accommodating the manufacture of a wide range of products.

*We have been successful at manufacturing the world's smallest hollow drill (1.5mm).
*Our company currently holds the second largest world market share for hollow drills (German-produced drills hold 1st place).
*We are the only company in the world that manufactures drilling machines equipped with hollow drills.

We do not like being the number two or number three company in a large industry.
To us it does not matter if it is a small industry or market; we wish to be at the top of our trade, even if it is in an extremely specialized technical area. We at Sakura Seiki have since the time of our founding resolutely adhered to our management policy, and have entered into many different business areas. By putting together many small pillars we have built a firm and unshakable foundation for our company.
Because we would rather be the best at something small over the worst at something large, we are content with being the ""king of the sand hill."" We will continue to reach the summits of many technical fields and industries. We strive to polish our inimitable technologies and create products that surprise the world. This is why we have no regrets about our investments in the necessary equipment and talent.

Selected for inclusion in the 2010 Kansai Bureau of Economy, Trade and Industry's ""Kansai Manufacturing Best 100""

Materials
Processing Technologies
Processing
Products and Uses
General Metals
・Pressed
・Sheet Metal Processing, Canning, Bending or Cutting
・Machined, Ground or Polished
・Screw and Hole Processing
・Assembly and Wiring
・Printing

Commodity
Component
Industry
Educational Equipment, Office Equipment, Bookmaking Equipment, Drills, Hollow Drills, Etc.
・Writing Supplies
・Office Machinery
・Printing and Publishing
・Furniture and Wood Products
・Metals
・Precision Machinery
・Electronic Instruments and Devices
・Machine Tools

| | | |
| --- | --- | --- |
| Machine Name | Processing Capabilities | Number of Machines |
| Press, Laser, Lathe, Bender, Coating Equipment, Etc. | | 50 Units |

・ISO 14001 Acquisition:2000
・Sakura Seiki has constructed a unique quality management system and is continually striving to improve quality.

Our company can perform all aspects of the manufacturing process from planning, designing, prototype manufacturing, and product commercialization. Of course, small lots are also possible. We can provide assistance in creating a wide variety of products including all types of contract office furniture, white boards, processed metal products and more.

■

Address
2-61, Kusune-Cho, Yao City, Osaka 581-0814, Japan

■

TEL
+81-(0)72-996-5528

■

FAX
+81-(0)72-997-7541

■

Representatives
Junzo Muramoto

■

Date of Establishment
1948

■

Capital
10,000,000 yen

■

Number of Employees
70 people

■

Industry
General Machinery and Instruments Manufacturing

■

URL
http://www.sakura-seiki.co.jp/



For more detailed information about our products or offers to act as alocal distributor,please fill out the following form.
Required item

※Unauthorized reproduction and/or reprinting of articles and photographs posted on this site is prohibited.
Usage Notes