Home

Business PR Page

Our company performs high-speed 3D laser processing.
You'll be surprised at the quality of our finished bored holes and notches!
Inquiries to this Company
Japanese
Metal Products Manufacturing


KOTANIKOUKAN CO., LTD.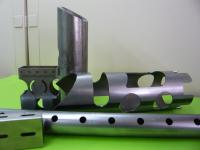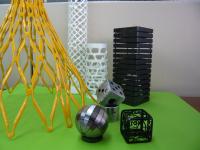 Our company is mainly involved in steel pipe and steel material laser cutting. With our recent introduction of a high-speed 3D laser cutting machine we can now process not only pipes but also angles, flat bars and channels at will. We can design, make prototypes and go into mass production without making expensive dies.

Traditional pipe boring and notching involves first making a die, and then using presses and drills to finish the work.
Performing this work by hand generates a lot of cost, and a lot of labor is required to clean out the burrs and flash.
Each time the volume being processed increases, it gets harder to meet deliveries.
We resolve all of these problems! Because we use high-speed 3D lasers in our processing no dies are necessary, no burrs or bits of flash are left behind, and the finished products are spectacular. Because of its high-speed capabilities it is suitable for mass production uses.

(Possible Forms) Square Pipes, Round Pipes, Elliptical Pipes, Deformed Pipes, Ambre, FB, Channel
(Possible Materials): Iron, Stainless Steel, Aluminum
(Processing Range) Round Pipes: 12φ-150φ Square Pipes: Square and rectangular types up to 170mm from the 12 Angle-Opposite Angle
(Maximum Thickness) Iron: 8mm Stainless Steel: 4mm Aluminum: 3mm

We design on 3DCAD, so multiple hole diameters and non-standard pitches do not pose a problem.
Trust us for all of your complex configuration boring and notching needs.

-Always Stand with the Customer-
We offer a unified manufacturing platform from prototype to mass production. We are always striving to answer our customer's lot size (small lots), delivery and price needs.

Materials
Processing Technologies
Processing
Products and Uses
Iron Tubes
Stainless Steel Tubes
Aluminum Tubes
3D CAD Design
3D Laser Processing
360 Degree Processing
・Sheet Metal Processing, Canning, Bending or Cutting
・Machined, Ground or Polished
・Screw and Hole Processing
Machine Tools, Automobile Parts, Architectural Hardware, Store Design, Display Products, Steel Furniture

| | | |
| --- | --- | --- |
| Commodity | Component | Industry |
| Machine Tools | Connectors | ・Machine Tools |
| Automobiles | Connectors | ・Automobiles |
| Architectural Hardware | Struts | ・Architectural Hardware |
| Store Design and Display Products | Struts | ・Other Products |
| Steel Furniture | Struts | ・Office Machinery |

| | | |
| --- | --- | --- |
| Machine Name | Processing Capabilities | Number of Machines |
| High-Speed 3D Laser Processing Machine | | 1 Units |
| High-Speed Fully Automatic Cutter | | 2 Units |
| Press Cutter | | 2 Units |
| Circular Cutter | | 2 Units |

As we design on a 3D CAD system, we can design and build prototypes as needed until the product meets your satisfaction.
Since our equipment is high-speed we can accommodate mass production orders.
We can also accommodate a range of delivery needs. Please feel free to discuss your requirements with us.

■

Address
Yao City, Ota Shinmachi 2-50 581-0039, Japan

■

TEL
+81-(0)72-920-1800

■

FAX
+81-(0)72-920-1801

■

Representatives
Masahisa Kotani

■

Date of Establishment

■

Capital
10,000,000 yen

■

Number of Employees
15 people

■

Industry
Metal Products Manufacturing

■

URL
http://www.kotani.tv/



For more detailed information about our products or offers to act as alocal distributor,please fill out the following form.
Required item

※Unauthorized reproduction and/or reprinting of articles and photographs posted on this site is prohibited.
Usage Notes