Home

Business PR Page

We pro-actively handle even difficult work, and are the No. 1 supplier of design chucks.
Inquiries to this Company
Japanese
General Machinery and Instruments Manufacturing


TEIKOKU CHUCK CO., LTD.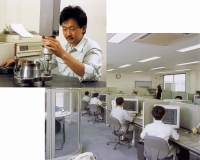 Our company operates under the brand name ""SOUL"", and began operations in 1926. We are a pioneer of scroll chuck manufacturing in Japan.
In 1969 we led the industry in beginning development of mass production-use design chucks. Our company has the largest variety of car part-use design chucks in Japan, and enjoys the No. 1 domestic share in this area. Our company also has international cooperation in after-service from companies including ITW-Workholding (USA) and Forkaldt (EU). Our company continually challenges itself to be the manufacturing leader of every age.


A design chuck is an order-made work holding tool designed and manufactured to have an optimum structure for a given work configuration, level of process precision, set of work conditions, or machine being utilized. The design chucks made by our company are utilized in a wide array of domestic and international automobile part processing lines. Our company proactively handles difficult and high-risk requests, and in the rare circumstances when a problem arises, we always give the highest priority to its resolution.

In the area of automobile parts our company has performed over 100,000 varied layouts, and is skilled at oscillating, claw lead-in, claw rotating, finger, collet, diaphragm and other structures, as well as combination designs of these. We carefully design and select the steel grades for each individual processed part, and deliver these products fast. Our company is fully capable in all stages of the manufacturing process including high-precision processing, heat treating, finishing, assembly, inspection, shipping and delivery.

Domestically, we receive requests for our design chucks both directly and from set makers, and we sell our products to automobile makers and automobile part makers. Internationally we perform sales to machinery makers through our local cooperating partner, the machine and tool trading company ITW Workholding Group. Additionally we sell our products to companies engaged in construction machinery, bearing, and air conditioning manufacturing. Our company has the top domestic share of design chuck deliveries and sales.

1 We will provide products that contribute to the profitability of our customers as well as a level of service that satisfies our customers.
2. We will work towards high profitability, and contribute to the development of the industry and the region.
3. We will endeavor to create a safe and comfortable work environment, and will work to improve the well-being of our employees.


Received the Medium- and Small-Business Research Center Award (1995)
Selected for Inclusion in the Healthy Manufacturing 300 Medium- and Small-Businesses List (2006)
Selected for Inclusion in the Healthy Osaka! Manufacturing Enterprises List (2009)


Materials
Processing Technologies
Processing
Products and Uses
Steel Materials
Our company possesses processing technologies that allow the manager to ensure the accurate finishing of every part in every process up to heat treating based only on the final blueprints for the part, regardless of the configuration.
・Machined, Ground or Polished
・Screw and Hole Processing
Chuck Parts
Steel Materials
Our company possesses heat treating capabilities that allow us to manufacture products that adhere to the materials and quenching levels indicated in the blueprints.
・Heat Treated
Chuck Parts
Heat Treating Steel
Our company possesses grinding technologies that allow us to process difficult to retain products to micro-level tolerances as indicated in the product blueprints.
・Machined, Ground or Polished
Chuck Parts
Chuck Parts
Our company is capable of assembling complete products based on multiple constituent part assembly charts while confirming against defects.
・Assembly and Wiring
Completed Chucks
Completed Chucks
Our company possesses inspection capabilities that allow chucks with differing mounting structures to be machine assembled and then given a pass/fail judgment as the product is confirmed as to whether it meets the customer's overall requirements.
・Other Processing
Completed Chucks

| | | |
| --- | --- | --- |
| Commodity | Component | Industry |
| NC Lathe | UBL : Ball Lock Chuck/Especially suitable for 1st op. turning | ・Machine Tools |
| NC Lathe | Pin Arbor Chuck/Jaw pull down type | ・Machine Tools |
| NC Lathe | MUL : Multi-Jaw Chuck/Suitable for thin cylindrical work pieces | ・Machine Tools |
| NC Lathe | GC : Gear Chuck/Clamp the pitch line of gears. | ・Machine Tools |
| Grinder | MDC : Diaphragm Chuck/High-Precision | ・Machine Tools |
| Machining Center | Design Chucks and Clamp jigs for machining centers | ・Machine Tools |

| | | |
| --- | --- | --- |
| Machine Name | Processing Capabilities | Number of Machines |
| Lathe | | 41 Units |
| Machining Center | | 21 Units |
| Milling Machine | | 15 Units |
| Drill Press | | 10 Units |
| Saws and Cutting Machines | | 5 Units |
| Grinder | | 25 Units |
| Surface Grinder | | 10 Units |
| Tool Grinder | | 8 Units |
| Electrical Discharge Machine | | 5 Units |
| NC Jig Grinder | | 1 Units |
| Jig Borer | | 2 Units |
| 3D Measuring Equipment | | 3 Units |
| Heat Treatment Equipment (2 Carburizing Furnaces) | | 1 Units |
| Various Testing and Inspection Machines | | 20 Units |

8 Patents Related to Chucks (Of which 2 are International and Domestic Patents)
6 Design Patents Related to Chucks (Of which 1 is an International and Domestic Design Patent)

・ISO 9001:2000 Acquisition:2000
・なし

Order Handling: (1) Our company has performed over 100,000 layouts, and can handle almost all car parts. Our sales engineers provide chucking technology guidance and development assistance, including the degree of difficulty, based on the needs of the customer. (2) No do-overs for car part finishing. Thanks to our barcode progress management system we can provide quick turnarounds of 1.5 months from the confirmation of specifications, and under one month for repeat orders. (3) All of our delivered design chucks are maintained in our complete blueprint management system, and we can immediately begin manufacturing even individual parts for design chucks dating back over 10 years. (4) In the event that there is an addition or change to a customer's manufacturing work, we can evaluate whether the current chucks can accommodate the changes, and then design and manufacture only the necessary parts.

■

Address
2-1-50, Kita Kyuhoji, Yao City, Osaka 581-0071, Japan

■

TEL
+81-(0)72-923-1821

■

FAX
+81-(0)72-992-5457

■

Representatives
Tetsuyuki Terasaka

■

Date of Establishment
1926

■

Capital
95,180,000 yen

■

Number of Employees
160 people

■

Industry
General Machinery and Instruments Manufacturing

■

URL
http://www.teikoku-chuck.com



For more detailed information about our products or offers to act as alocal distributor,please fill out the following form.
Required item

※Unauthorized reproduction and/or reprinting of articles and photographs posted on this site is prohibited.
Usage Notes