Home

Business PR Page

We perform unified manufacturing or processed products and filters that require high degrees of precision from raw materials.
Inquiries to this Company
Japanese
Metal Products Manufacturing


YAO KANAAMI CO., LTD.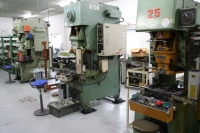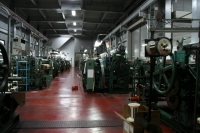 The special characteristic of our company's technology lies is the fact that we manufacture extremely fine-spaced wire cloth using stainless steel wires less than 20μm in diameter. This product is used in filters that strain out extremely fine foreign particles, in screen printing in which a high degree of precision is required, and in other uses. Since our establishment in 1917, our engineers have used our accumulated experience and know-how to manufacture extremely high quality "Fine Mesh" wir

In the area of wire cloth, we possess the technology to create mesh products capable of filtering objects as small as 5μm (0.005mm).

We manufacture SUS15μ(0.015mm) wire cloth capable of filtering particles as small as 5μ(0.005mm). We are capable of manufacturing a wide variety of filters made from wire cloth and other filtration materials. We can also manufacture processed products that utilize wire cloth and other filtration materials. Additionally we can manufacture a variety of display goods that utilize wires.

Manufacturers of various filter types, synthetic chemical manufacturers, companies engaged in interior and store-related business areas

We believe we contribute to society when our employees strive to better themselves each day and when our company answers the needs of its customers.

We believe that the level of trust that our below-150μm (0.15) wire cloth gains from our customers is at the top of the industry. In particular, we have a demonstrable and distinguished history in the area of mat-woven, filtration-use wire cloth. We perform unified manufacturing from raw materials (wire cloth) to finished products (filters and other products), and guarantee the quality of everything we make.

Materials
Processing Technologies
Processing
Products and Uses
Stainless Steel Wire
Manufacture of Wire Cloth that Uses Extremely Fine Wires Less than 30M for Resulting Grain Less than 20μ
・Other Processing
Wire Cloth for Filtration, Sifters, and Screen Printing
Wire Cloth
Manufacturing and Processing of Filters from Wire Cloth
・Pressed
・Welded
Various Types of Filters and Baskets
Wire Rods
Manufacture of Various Types of Display Products
・Sheet Metal Processing, Canning, Bending or Cutting
・Welded
Magazine Racks, Back Mesh, Ceiling Mesh

Commodity
Component
Industry
Various Types of Filters
Oil Filters and Liquid Filters
・Medical Goods and Cosmetics
Various Display Products
Baskets, Ceiling Mesh, Back Mesh
・Fabrics
・Automobiles
Sifters
Sifter Cables
・Machine Tools
Screen Printing Boards
Board Gauze
・Home Appliances
・Automobiles
・Precision Machinery
・Electronic Instruments and Devices
・Machine Tools

200m/s (SUS Wire Netting) 1m Cloth X 30m X 300 Units

| | | |
| --- | --- | --- |
| Machine Name | Processing Capabilities | Number of Machines |
| Wire Net Looms | 40 Inch | 22 Units |
| Wire Net Looms | 48 Inch | 10 Units |
| Wire Net Looms | 60 Inch | 1 Units |
| Diameter Adjuster | | 2 Units |
| Reed Press | | 1 Units |
| Pressing Machines | 45t | 2 Units |
| Pressing Machines | 25t | 1 Units |
| Ultrasonic Baths | | 1 Units |
| Various Measuring Equipment | Net Thickness Measuring Devices | 1 Units |
| Various Measuring Equipment | All-Purpose Projectors | 1 Units |
| Various Measuring Equipment | Microscopes | 1 Units |
| Various Measuring Equipment | Pull Test Equipment | 1 Units |
| Various Measuring Equipment | Flow Measuring Devices | 1 Units |

・ISO 9001 Acquisition:2008


Wire Cloth for Filters: We continually stock more than 100 mesh types to ensure immediate delivery to our customers.

■

Address
3-3-15, Atobe Kita-no-Cho, Yao City, Osaka 581-0000, Japan

■

TEL
+81-(0)72-992-2001

■

FAX
+81-(0)72-992-2002

■

Representatives
Masahiro Yamagami

■

Date of Establishment
1926

■

Capital
10,000,000 yen

■

Number of Employees
15 people

■

Industry
Metal Products Manufacturing

■

URL
http://www.yaokanaami.co.jp



For more detailed information about our products or offers to act as alocal distributor,please fill out the following form.
Required item

※Unauthorized reproduction and/or reprinting of articles and photographs posted on this site is prohibited.
Usage Notes